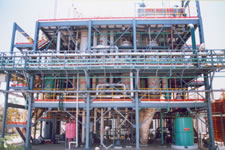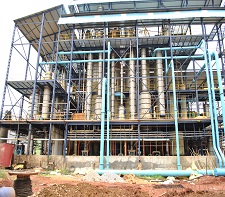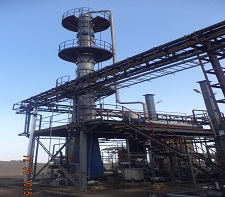 Our evaporators are ideally suitable for concentrating a range of solutions / suspentions including highly heat sensitive liquids where original properties of the product have to be preserved and the stability of the product is vital.
We offer custom built plants, which can be specially designed and sized to optimize the operation cost vis-a-vis the initial investment. Single or multiple effect system using falling film, scraped surface and forced circulation either alone or in combination can be offered to meet product requirements.
The system can be offered as a package unit inclusive of pre-heaters, thermo compressors, vapour separators, transfer pumps, vacuum pumps and condensers and solvent stripping units.
Full Array of Evaporators



We build our evaporators with meticulous design and manufacturing procedures to suit each and every specific application in mind. May it be highly temperature sensitive product or highly fouling and sealing product. Or, it may be a specific requirement of reducing operating costs. All requirements are assessed and need fulfillment is incorporated at the design stage itself.

The appropriate combination of Falling Film, Forced Circulation, Scrapped Surface type Evaporators along with Thermo vapour Re-compressor, Condensate and Product Flashing designed optimally, delivers the best efficiencies and ensures least operating cost.


Falling Film Evaporators
They are long tube evaporators most suitable for low temperature applications and for high thermal efficiency. They can be used for non-fouling and relatively non-viscous products.
Forced Circulation Evaporators
They are short tube evaporators with very high velocity in tubes. They are the conventional type preferred mostly for fouling and viscous products.
Scrapped Surface Evaporator
Scrapped surface Evaporator is used for evaporating the heat sensitive material under high vacuum using thin/scraped film technology. Thin film yields high heat transfer coefficients, making the process highly effective.
Rising Film Evaporator
They are thermally efficient and are for low temperature and foaming application. They are flexible enough to convert to forced circulation types.
Accessories
Condensate and product Flashing
By flash pulling the outgoing streams like product and condensate, maximum heat recovery within the system is ensured and that accounts for substantial steam reductions.
Thermo vapour Re-compressor
They ensure reuse of evaporated vapours and thereby account for a good reduction in steam requirement, almost equivalent to one additional effect.
Unique Characteristics

Low fixed and operating costs
Optimum heat transfer area
Good heat transfer coefficients at all temperature gradients
Easy accessibility and compact layout
Self cleaning action from salting
Scaling and fouling
Large evaporation capacities
Low temperature operation
Best suited for clear, foaming and corrosive solution
High viscosity
Solvent Recovery
Industry Applications
Chemical Industry

Dyes
Dye Intermediates
Tanning Agents
Sodium Sulphate
Glycerol Solution
Calcium Chloride

Pharmaceutical Industry

Herbal Extract
Herbal Extract
Gelatine

Starch Industry

Maltodextrine
Dextrose
Sorbitol
Corn Steep Liquor
Glucose

Food Industry
Effluent Industry
Our core strength is our design capability and enhancement through

Absorbing advancements made in circulating and flash technology and applying them commercially.
Extensively using Pilot Test facilities available in-house for refinements.
Better understanding of client requirements and creating all system engineering in-house.
Extensive use of specially designed software for simulation


Peak Performance is assured by

One roof manufacturing so that all individual components designed in-house deliver fully the properties they are designed for.
Thorough testing.
Formulating designs that ensure long term operation without de-scaling / CIP


Low operating costs come through

High thermal economy
Minimized descaling with higher uptime uncomplicated design that makes troubles shooting easy and maintenance fast.